Nicholas J. Lawrence Foundation Scholarship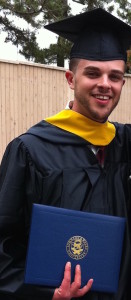 The scholarship was started in memory of Nicholas, who tragically lost his battle to addiction in 2015. Nicholas was a smart, well-liked young man who had a passion for golf. He was fortunate enough to attend Johnson & Wales University, majoring in sports management with dreams of becoming a PGA Professional.
The Foundation's mission through it's scholarship program is to assist recovering addicts realize their dream of attending a college or trade school and lead productive, fulfilling lives. We also feel continued therapy is an integral part in maintaining sobriety and include a stipend for counseling with each scholarship.
Scholarships in the amount of $2,500 will be awarded by July 15th. $2,000 is payable directly to the college or trade-school, while $500 is payable to a counselor or therapist to assist with continued long-term recovery. All applications are considered confidential.
The scholarship is awarded to individuals that meet the following criteria:
Commit to abstaining from drugs and alcohol and living clean
Be in active recovery for a period of one year or more
Agree to periodic, random drug testing at the discretion of the Foundation
Applications are due by June 15th and are available for download here.