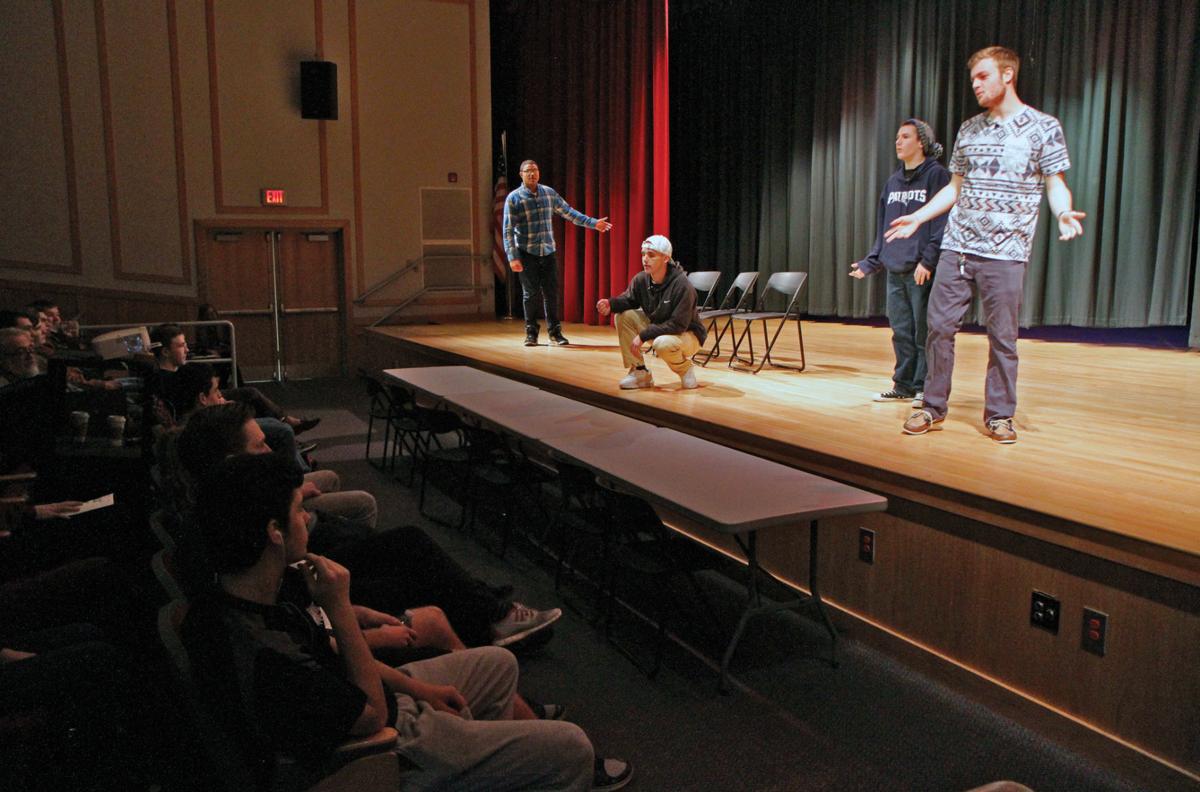 Before an audience of students at Falmouth High School auditorium, a young man in a sweatshirt and baseball cap crouched low near the edge of the stage.
"Just take this," he whispered.
A few others gathered around him and echoed a chorus of phrases. Their voices gradually became louder, their words overlapping until they were nearly indistinguishable.
"Man up."
"There's nothing to do around here!"
"Everyone else is doing it."
The scene was part of a play called, "The Price You Pay," by Drug Story Theater, Inc. For the five actors on stage, the scene represented the start of their own experiences with addiction.
Jonathon, Melvin, Michael, Nick and Shana are both characters and real people in various stages of recovery. As members of Drug Story Theater, they have explored their personal stories and rewritten them in a performance for middle and high school audiences.
The play was performed twice at Falmouth High School on March 10. On Thursday, March 24, community members are invited to a public performance and forum at the Lawrence School at 7 PM.
Before the start of the show, organization founder and president Joseph Shrand, a psychiatrist, said that the value of the play lies in the actors' connections to the subject and the education it offers on addiction as a disease.
"Audiences will learn why the adolescent brain is at risk for addiction," he said.
It was the first time that the play was performed on Cape Cod. However, the story was not unfamiliar for most students. When asked in a question-and-answer session afterward how many of them had a friend or loved one die from a drug overdose, many hands rose throughout the audience.
In Falmouth alone, emergency personnel responded to more than 120 overdoses between December 2014 and this past November, 10 of which were fatal. The vast majority of reported overdoses have been opiate-related.
Dr. Strand and the actors stressed one "price" paid for using drugs—the trust of family and friends. Others who become addicted do not survive to regain that trust, paying the greater price of death.
The Falmouth performances were sponsored by the Nicholas J. Lawrence Foundation, a local nonprofit that was created in honor of its namesake. The foundation awards annual scholarships to recovering addicts, hosts educational events and speakers related to addiction, and provides resources and support for those impacted by the disease and their loved ones.
Nicholas J. Lawrence, a 2007 Falmouth High School graduate, died last year from a heroin overdose.
"While it looked like he had everything together on the outside, he was struggling with addiction," said Jennifer Chagnon, Nicholas's sister, before the show.
It started with "just smoking weed." The point was highlighted by Ms. Chagnon and by actors throughout the play. For the youngest member of the crew, 14-year-old Nick—his and the other actors' last names are omitted to protect their privacy— marijuana itself was addictive.
Nick's real-life brother, Jonathon, and parents are also actors in the performance. While speaking with the audience on Thursday, March 10, their mother, Lisa, said that she and her husband dropped the boys off at a treatment center to get them help.
"Don't let anyone tell you that it's 'just weed'… It desensitizes you to all drugs," she said.
Participating in Drug Story Theater is challenging, she said. Each time that she and her husband perform, they relive their family's struggles with addiction.
From the back of the room, one student asked why some continue to use drugs "when it isn't fun anymore," less for pleasure than to avoid the physical symptoms of withdrawal.
The concept of addiction is confusing, Dr. Shrand said. Addiction, especially to opiates, he said, is so powerful that it can overcome the basic instinct of survival, the reason why some people continue to use drugs even knowing the risks.
Kevin Rosario, a regional outreach representative for Gosnold on Cape Cod, also spoke to the students. Those who know someone suffering with addiction are not alone, he said. Even higher than the number of people addicted to drugs is the number of those who are affected by their struggles—their families and friends.
Mr. Rosario explained that Gosnold offers free family support groups and urged students to seek more information on its website (www.gosnold.org).
"Recovery is possible, and these people are proof of that," he said, referring to the actors. "So, thank you."
Link to the article:
http://www.capenews.net/falmouth/news/performance-tells-true-stories-of-addiction/article_5dc3117b-73ee-576e-8385-7e72f3d15caa.html
Related Articles:
http://www.capecodtimes.com/news/20160311/falmouth-play-sets-stage-for-prevention