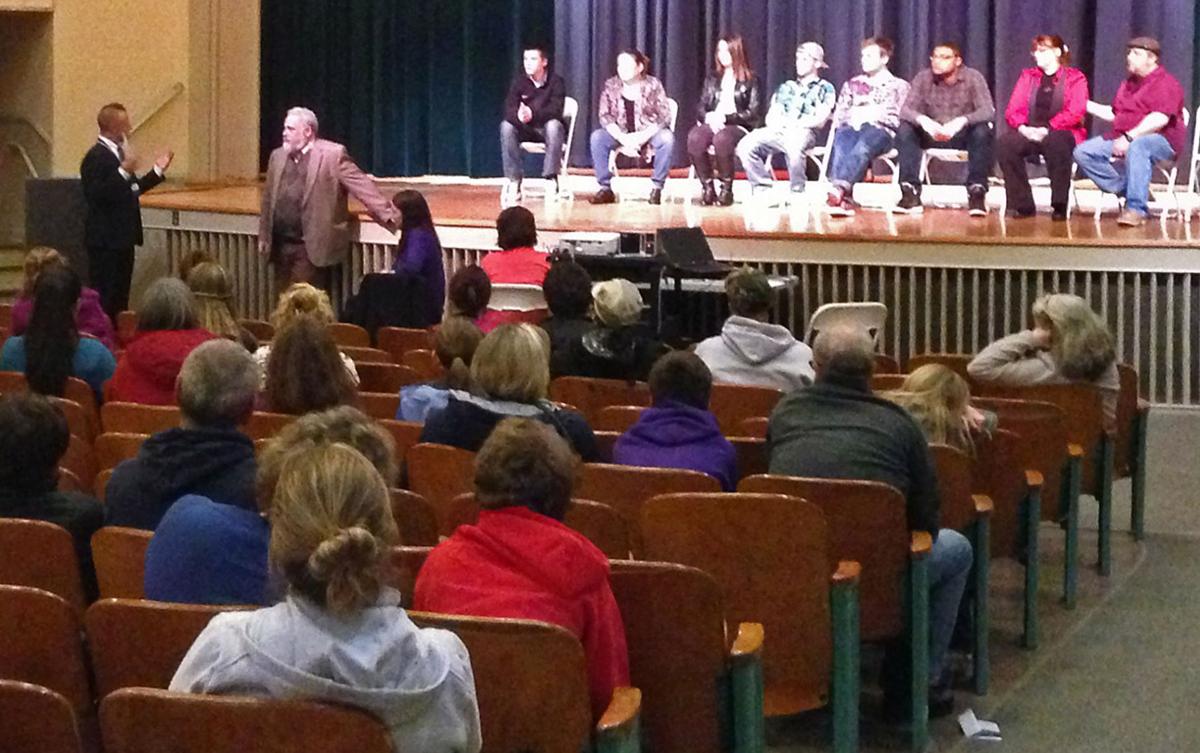 Discussion that followed "The Price You Pay," a play about addiction performed at the Lawrence School last week, reflected strong opposition to a state ballot question that would legalize marijuana.
The play was first shown to Falmouth High School students earlier this month, but was not open to the public in Falmouth until a performance last Thursday, March 24. Its teenage actors are members of an organization called Drug Story Theater, Inc., through which they share their own personal stories of addiction. Some of the actors' real-life parents are cast as their parents.
Both performances in Falmouth were sponsored by the Nicholas J. Lawrence Foundation, a local nonprofit that was created in honor of its namesake, a 2007 Falmouth High School graduate who died of a heroin overdose last year.
"This doesn't just affect our town and school, but every town and potentially, every family," Lawrence School principal Thomas Bushy said before the start of the play. It is important, he added, that all stakeholders are involved in responding to issues of substance abuse and addiction. "At the school level, parents and students are encouraged to check in with a counselor or another adult that they trust for confidential and nonjudgmental support."
Present at the event were state Representative David T. Vieira and state Senator Viriato (Vinny) deMacedo, the latter of whom worked to obtain state funding for the formation of Drug Story Theater in 2014. Sen. deMacedo said he learned about the "science of addiction" years ago from Dr. Joseph Shrand, a psychiatrist who later founded the nonprofit. Dr. Shrand had shared his idea for the initiative with Sen. deMacedo at the time as "the treatment of one for the prevention of many."
When the problem of addiction continued to grow throughout the state, Sen. deMacedo said, he contacted Dr. Shrand to see if he was still interested in starting the nonprofit. Ultimately, he was able to secure $50,000 for the program through the state budget.
"They've managed to keep this alive so that high schools and middle schools can hear individuals sharing their stories…so that some kids are never going to consider messing around with drugs," Sen. deMacedo said.
Portrayed throughout the play is the peer pressure that leads teenagers to try drugs, and ultimately, struggle with substance abuse. Information is also presented on parts of the brain that are impacted by drug use–especially in teens, whose brains are not yet fully developed.
A public forum with the audience and cast members followed the performance.
Walter M. Crotty, a member of the Falmouth School Committee, asked the actors what may have prevented them from situations involving drug use.
Jonathan—he and other actors only use their first names—said that education about drugs and how they affect the brain, such as the information provided in the play, might have helped. Another actor, Mike, agreed and said that his only mental images of drug use came from the media. Therefore, he associated drugs with "excitement and adventure."
Learning the truth about drugs, he said, could have influenced him "to think about it and make an informed decision instead of an impulsive one."
Rep. Vieira pointed out that marijuana use was a common theme from the beginning of the play. He asked the cast members for their thoughts on a November 2016 ballot question to legalize marijuana at the state level.
Legislators need to consider what the impact of the ballot question would be if it passes, said one actor named Melvin.
"What would be the pros and cons of saying 'yes' to weed?" he asked.
Dr. Shrand asked cast members to tell the audience what substance they used first, and the majority answered, "Weed."
"There's your answer," Melvin said.
The prefrontal cortex is the part of the brain responsible for thinking through decisions, making and executing a plan and anticipating the consequences, Dr. Shrand explained. It is important, he continued, to anticipate the consequences of passing a ballot question that says it is okay to smoke marijuana.
Echoing messages in the play, he said, "You can have drugs and the pleasure [from the chemical] dopamine, but the price you're going to pay is trust."
When cast members were asked whether they enjoyed performing, one actor, Nick—who is Jonathan's brother—said he does but it is challenging. He returned to the subject of marijuana, explaining that it was the root of his addiction. He goes to a sober high school now and said that his struggle with addiction gets easier with time—however, he still has urges to use drugs.
Nick and Jonathan's parents are also actors in the play. His father, Gerry, said that each time he and his wife perform, they relive their family's experiences with addiction. But he said that it is part of the healing process, and it is also a way for them to let other parents know they are not alone.
His wife, Lisa, emphasized a change in society's acceptance of marijuana use. Speaking to other parents, she said, "Our generation accepted that weed was not okay."
While she said that perspectives have changed, she warned parents not to "buy into" the concept that marijuana is safe.
Dr. Shrand told attendees that today's marijuana is not the same as it was years ago. He said that smoking weed can put youth at higher risk for schizophrenia and cause their IQs to drop.
"It is not benign," he said.
Dr. Shrand asked any students in the audience to stand, and more than 20 rose to applause.
Nancy Plumer, a Centerville resident, expressed appreciation for the nonprofit's work. Addressing the actors, she said that youths are likely to listen to them because of their personal experiences with addiction. She encouraged them to continue the work they are doing.
"I can't tell you how important it is," she said through tears.
Another member of the audience asked actors to speak to the ongoing heroin epidemic. Melvin said that he has lost friends from heroin addiction, drawing attention to the stigma associated with the disease. People who receive treatment for heroin use are thought of as "junkies," he said, and that is not true. Those suffering from the disease of addiction are still human beings, he said.
Dr. Shrand asked how many attendees lost a loved one or knew someone who lost a loved one due to heroin use. The majority of them raised their hands, and he noticed that some of them were children.
"I see these hands go up and I get a chill from that," he said.
Dr. Shrand said that Drug Story Theater is currently working on its second play with a separate cast of youth in recovery, but did not say when performances would begin.
Full Article:
http://www.capenews.net/falmouth/news/opposition-to-legalizing-pot-strong-at-public-forum/article_442e6f60-4ee7-50f9-8e1b-6492b17a9a03.html?utm_medium=social&utm_source=facebook&utm_campaign=user-share